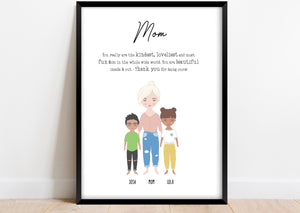 Personalised people print for Mother's Day / Mom's birthday its. This print is A4 in size and available as print only or complete with frame. Its is created using the best quality ink and 300gsm matt white card.

It is completely personalised to enable you to specify skin colour, eye colour, hair colour & style and clothes. The title can be Mum, Mummy, Mom, Mammy etc to suit your needs. The quote underneath the title can also be amended or taken off complete (please note if this is not specified then we will leave the quote on). This print allows for up to 5 characters to be included. We can do more if required but please contact us first for a customised listing.
Personalisation details: 
Please include
- Print title
- Quote (if not specified we will use the one shown)
- People L to R:
- Jess - age 6 - blue eyes - medium light skin - blonde hair messy bun - skirt & top
- Mum - age 38 - brown eyes - dark olive skin - long wavy light brown hair - jeans & blouse
- Tom - age 11 - blue eyes - medium light skin - dark brown spikey hair - joggers & tee

We can send this to the recipient directly - please enter the recipients name and address at checkout and ensure the gift message section is completed.

If you have any questions or queries please do not hesitate to drop us a message :-)

Take a look around our shop for more personalised prints, gifts, wish strings and jewellery!